ca. 1936 - Bee Ho performs at The Strand, RKO Vodvil
Bee Ho Gray and Company "Western Pastimes" performed at The RKO Strand in the mid-1930s. The date is apparently post 1934 since the coyote, Chink is mentioned in the ad. The Strand is located in Modesto, California. Read more about The Strand on Cinema Treasures.

This type of advertisement is a typical example of hundreds of others in my collection. Bee Ho performed at about a hundred venues every year for some thirty-five years (1915-1950), not to mention his many years with Wild West shows prior to moving into Vaudeville performing.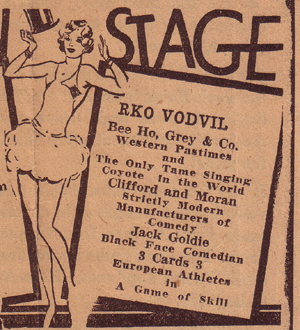 Click on image for the full advertisement