1915 - 1930s - Vaudeville Shows
Bee Ho Gray and Ada Sommerville performed some of their earliest vaudeville shows in Detroit, Michigan at the Miles Detroit Theater in March, 1915. They received favorable reviews from several newspapers. These shows in 1915 may not have been their first vaudeville performances and were certainly not their last. Bee Ho and Ada continued performing on vaudeville stages for as long as Vaudeville shows were popular. They performed with both the Orpheum and Western Circuits and were always given top billing. The couple performed in literally hundreds of performances per year and maintained a performance schedule that seems almost impossible to imagine. Records show that they performed in over one hundred cities within a single year. In many cases they presented their show multiple times at each venue (matinee, evening and late show) and even played up to three venues per day in large cities.
The examples below are just a small sample of hundreds of similar newspaper reviews that I have in my personal collection.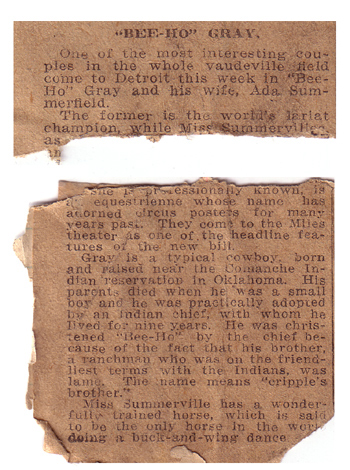 Click on image for full article with photo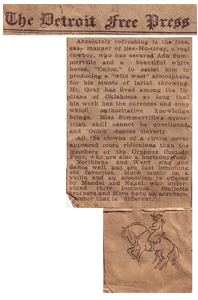 Click on image to enlarge